All medicines mentioned in the notice — six out of seven from Patanjali — had failed the microbial tests used to detect bacteria, mould and other toxins.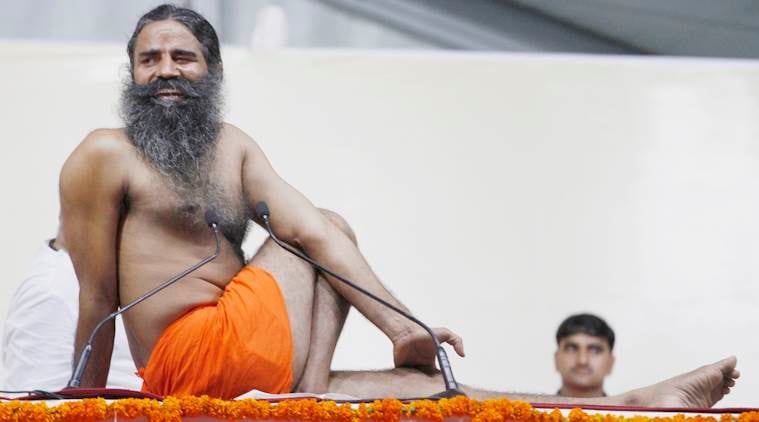 Patanjali founder Baba Ramdev performing Yoga in Ahmedabad on Wednesday, June 21, 2017 (AP Photo/Ajit Solanki).
The Nepal Department of Drug Administration has asked Patanjali Ayurved in a public notice to immediately recall the six medical products as they were found to be of "substandard quality", the Hindustan Times reported. All medicines mentioned in the notice — six out of seven from Patanjali — had failed the microbial tests used to detect bacteria, mould and other toxins. These were: Patanjali's Amla Churna of batch no AMC 067, Divya Gashar Churna of batch no A-GHCI31, Bahuchi Churna of batch no BKC 011, Triphala Churna of batch no A-TPC151, Aswangandha of batch no AGC 081 and Adviya Churna of batch no DYC 059.
Patanjali's revenue turnover more than doubled from last year — from Rs 5,000 crore in FY16 to Rs 10,216 crore in FY17. Moreover, the market penetration of Ayurveda or "natural ingredients" products has on the whole increased since Patanjali has been scaling new heights. Ayurvedic products now reach 77 per cent of Indian homes, up from 69 per cent two years ago, according to a recent ET report based on the findings of Kantar Worldpanel, the consumer insights arm of WPP.
In spite of its financial feats, Patanjali's products have simultaneously and variously been found guilty of violating food safety regulations and advertising codes in the past:
On #YogaDay2017 notice for recall of seven of #ramdev baba's products by Nepal's Drug Administration. pic.twitter.com/FB8CjXQcOR

— Kanak Mani Dixit (@KanakManiDixit) June 21, 2017
–    A recent RTI reply revealed that nearly 40 per cent of Ayurveda products (32 out of 82 samples), among them Patanjali's Divyangi Amla juice and Shivlingi beej, were found to be substandard by Haridwar's Ayurveda and Unani office.
–    Patanjali's Amla juice had also been suspended by the armed forces' Canteen Stores Department (CSD) in April after it failed the quality test at a Public Health Laboratory in Kolkata.
–    Factly reported in January this year that 25 out of 33 complaints registered against advertisements of Patanjali products in various sectors such as Food and Beverages, Personal care, Health care etc, between April 2015 and July 2016, were found to be in violation of the ASCI (Advertising Standards Council of India) code for making misleading, false and unsubstantiated claims.
–    In December 2016, a Haridwar court had slapped five production units of Patanjali Ayurved with a fine of Rs 11 lakh for "misbranding and putting up misleading advertisements" of their products. The company had been found guilty of outsourcing the products that it claimed to have manufactured in its own units.
–    In April 2016, Patanjali aata noodles were found to be substandard since they contained three times more ash than the acceptable limit. In the same month, Patanjali's desi ghee was also found to contain artificial colour.
–    As early as in 2012, a case had been filed in the court against Patanjali by the District Food Safety Department after samples of mustard oil, salt, pineapple jam, besan and honey produced by Patanjali had failed quality tests at a laboratory in Rudrapur, Uttarakhand. The products were found to be in violation of sections 52-53 of Food Security norms and section 23.1 (5) of Food safety and Standard (packaging and labelling) regulation.
http://indianexpress.com/article/india/nepal-asks-ramdevs-patanjali-to-recall-six-medical-products-4718715/