Higher focus on capital-intensive and high-skilled sectors in India has led to fast growth only in segments such as automobile and telecom which do not employ low-skilled workers; as a result of this, vast majority of workers remain concentrated in agriculture and unorganised sectors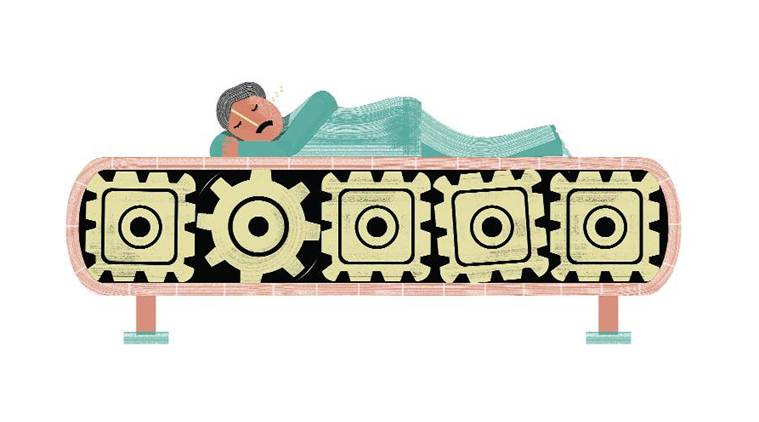 Illustration: C R Sasikumar
Slow growth in manufacturing has been a key challenge for the Indian economy, as the sector's growth rate has remained constant for the past 25 years, whereas countries such as Taiwan and China recorded more than double the rate of expansion in India, the Niti Aayog has said in a recent report. Higher focus on investment in capital- and skilled-labour-intensive sectors in the country meant that the movement of workers out of agriculture into industry and services has been especially slow for the past 65 years, the Aayog said in its appraisal of the Twelfth Five Year Plan (2012-2017).
"In Taiwan and South Korea in the 1960s and 1970s and in China in the 1980s, 1990s and 2000s, manufacturing grew at rates approaching or exceeding 15 per cent, with labour-intensive manufactures growing rapidly," it said. It lead to transformation of these economies from primarily agrarian and rural character to modern urban ones in around three decades.
"India has not experienced similar growth in manufacturing. (India has) grown approximately at the same rate as the aggregate GDP (gross domestic product) with their share in the GDP remaining nearly constant over the last 25 years … From 1990-91 to 2013-14 at constant 2004-05 prices, although the share of agriculture in the GDP has declined steadily, that of manufacturing has remained unchanged with almost all the gain in the share going to services," the Aayog said in its assessment report.
Concentration on capital-intensive and high-skilled sectors meant that the fast-growing sectors in India have been automobile and its parts, two-wheelers, machinery, chemicals, petroleum refining, telecommunications, software and pharmaceuticals. "None of these sectors employs low-skilled workers in large numbers. As a result, the vast majority of Indian workers remain concentrated in agriculture, unorganised industry or low-paying services," it said.
This is reflected in the data on the number of job seekers across the country, which has been on the rise over the years. While registrations with employment exchanges across the country stood at 4.47 crore in 2012 and 4.82 crore in 2014, the number of registrations at these in the first nine months of 2015 stood at 4.48 crore, according to data from the labour ministry. If the nine months' figures for 2015 are annualised, the numbers would rise to 5.98 crore for the full year.
With the exception of Gujarat, where employment exchanges have consistently clocked an over 30 per cent success rate at providing placement to job seekers, the national average of placement across exchanges stood at 0.57 per cent — or just three persons employed per 500 who applied in 2015. The number of job seekers witnessed a sharp rise in the first nine months of 2015, an increasing trend that's consistently visible through the last four years — for which the data is maintained by the National Career Service to which the country's employment exchanges are linked.
The Niti Aayog said that the clothing industry provides particularly striking example where India performed rather poorly with exports of these products not increasing over the years. "With 12 million workers joining the workforce annually and the total number of workers fast approaching 500 million, one would expect India to do well in this highly labour-intensive (clothing) industry. Yet, India has performed rather poorly in this sector. (Clothing) exports from India started at a lower level in 1997 and also grew at a significantly slower pace. By 2013, these exports from China had risen to $177 billion, while those from India amounted to just $17 billion," it said.
"Unfortunately, more than China's exceptional performance, this comparison testifies to generally poor performance of Indian exports of labour-intensive products. Today, India's exports of clothing and accessories in absolute terms fall short of not just Bangladesh but also Vietnam whose population is 90 million. The story is similar in other labour-intensive items such as leather products, food processing and electronic assembly," the Aayog said.
The Centre's think-tank said that India's challenge is not just rapid growth in manufacturing in general but also ensuring healthy growth in labour-intensive sectors such as clothing, leather manufactures, food processing and electronic assembly. Growth in these sectors would help create good jobs for workers with limited skills, thereby allowing workers in agriculture and informal manufacturing sector and services to migrate to the formal sector, it said.
While noting the recent legislative changes in labour laws that tries to make life easy for small and medium businesses, the Aayog said labour-market rigidities are the most important impediment to the rapid growth of these sectors. Since labour is a concurrent subject, both the the Central and state governments enacted numerous laws on the subject. The stringency of labour laws rises as the number of workers employed by a firm rises.
"The Trade Union Act becomes operative at seven workers. A firm with 10 workers if using power or with 20 workers if not using power comes under the purview of the Factories Act, 1948. A firm with 50 or more finds it very difficult to assign a worker from one task to the other. A firm with 100 workers or more is not allowed to lay off workers under any circumstances," it said. Apart from rigid labour rules, lack of incentives and taxation laws adversely affected the growth of manufacturing sector.
Besides reforms in labour laws, the Niti Aayog, in its three-year action plan, suggested several measures for improving output of labour-intensive sectors. These include easing entry barriers and reducing duties on synthetic fibres to make India's apparel industry competitive in global market, reducing custom duty on gold, increasing investment in skill training, expediting creation of integrated mega food parks and lower duties on key inputs of final electronics products, among other. The Aayog said that the government's recent focus on investment under the Make in India programme, implementation of the goods and service tax, development of industrial and freight transport corridors and higher spending on infrastructure could provide a fillip to the manufacturing sector going forward.http://indianexpress.com/article/business/economy/niti-aayogs-appraisal-of-the-twelfth-five-year-plan-low-manufacturing-growth-holds-back-job-creation/