A dowry complaint by a 29-year-old led to a case 'Uttarakhand had never seen before', when the husband turned out to be a woman who had allegedly married two women and duped many others of their money.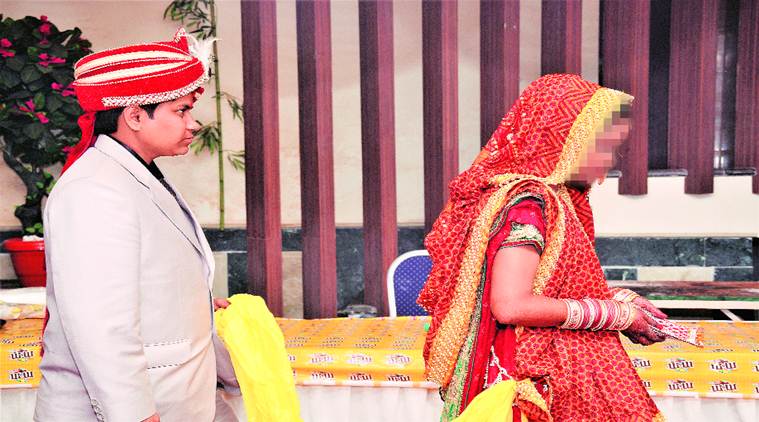 Krishna Sen at her first marriage in 2014(Express photo)It was a cold winter night at Uttarakhand's Haldwani town on Valentine's Day in 2014; the chill exacerbated by rain. For the brief period that the showers subsided, Krishna Sen, 24, who was on a mare, dismounted and joined the 25-30 strong baraat which, apart from Sen's elder sister Sonal and younger brother Gaurav, included people from the town whom Sen had introduced to the in-laws as "friends". Sen and the rest grooved to beats of the dhol before the returning rains forced them to rush into the "mid-level", "not posh", hotel in the town, the venue of Sen's wedding to a 29-year-old, who doesn't want to be named.
It was like any other wedding, she recalls, where "everyone was happy".
Four years later, on the same date — February 14 — Krishna Sen would be arrested from Haldwani and charged under IPC Sections 494, for allegedly marrying another woman without having divorced the 29-year-old; 498A, for allegedly harassing his first wife to extract money from her family; and 3, 4 of the Dowry Prohibition Act.
Before the day would be done, however, a confession by Sen in custody would lead to all the charges being dropped, and would transform the case into one that "Uttarakhand had never witnessed before". Sen, it turned out, was a woman who had posed as a man for nearly a decade, through two marriages.
The 24-year-old, currently lodged in a Haldwani jail, was now charged with provisions related to cheating.
It all began one afternoon in 2012 when the 29-year-old received a "friend request" from an unknown account on Facebook. The profile flashed a photograph of actor Leonardo DiCaprio, but the name beside it said 'Krishna Sen'.
"I accepted the request out of curiosity," she says. Soon, they became friends, before embarking on a full-fledged relationship.
In October that year, Sen, who has studied till Class 12, asked the 29-year-old, a double MA in English and psychology, to meet at Nainital, 35 km from her six-room house in a cramped locality, in Beura Kham of Uttarakhand's Kathgodam area.
For the meeting, she says, Sen came in a white Tata Safari, wearing a peach shirt tucked into a pair of cream-coloured trousers. "When we met for the first time, I found something unsettling about Krishna… I couldn't understand what it was, and before I could draw any conclusions, I was impressed by the way Krishna spoke," she says.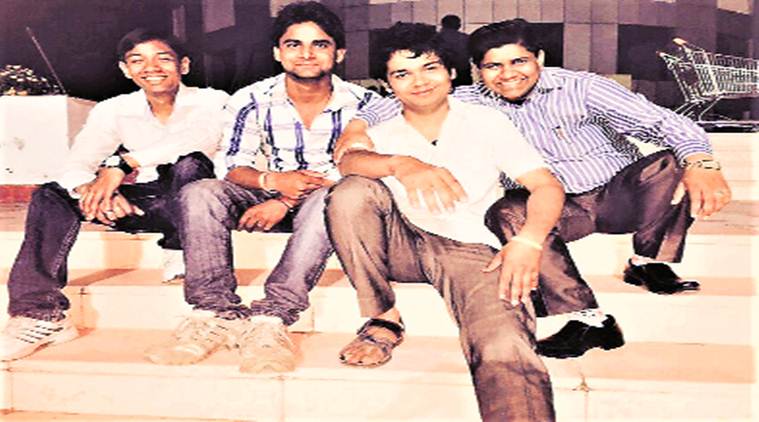 Krishna Sen with her friends(Express photo)Having lost her father in 2007, and with only her mother, who is in her fifties, to take care of her, her younger brother, and sister, she found comfort in Sen, who promised to take care of her family. "I have psoriasis (an auto-immune disorder that affects the skin), so my fingers are quite sensitive. But Krishna didn't seem to mind," she says.
It was such "goodness", she says, that made her overlook a possible giveaway of Sen's gender — a distinct feminine voice. "I thought to myself that it could be a hormonal disorder," she says.
According to the 29-year-old, Sen's mother Nirmala, also in her fifties, visited her house in December 2012 to discuss marriage. "She came with Krishna, her daughter and a younger son. Without us asking, she said, 'My son runs a profitable business. We don't need anything from you'."
Sen had told the 29-year-old's family that they owned a CFL bulb manufacturing unit at Aligarh in Uttar Pradesh, and a Light-Emitting Diode bulb manufacturing unit at Haridwar in Uttarakhand.
At their home, the 29-year-old's brother, who is 27, says that in the days leading up to the engagement in May 2013, Sen came with a catalogue on setting up a CFL manufacturing unit in Haldwani and sought Rs 4 lakh for it. "Krishna was always well-dressed, owned the latest electronic gadgets, and visited us in expensive cars," says the brother, and so they still didn't suspect anything.
By 2016, the girl's family alleges, they had given Sen Rs 8.5 lakh. Her mother, a Basic Health Worker with the state's Health Department, is the sole breadwinner, earning Rs 48,000 a month. The family says it had to also bear the wedding cost of Rs 3 lakh.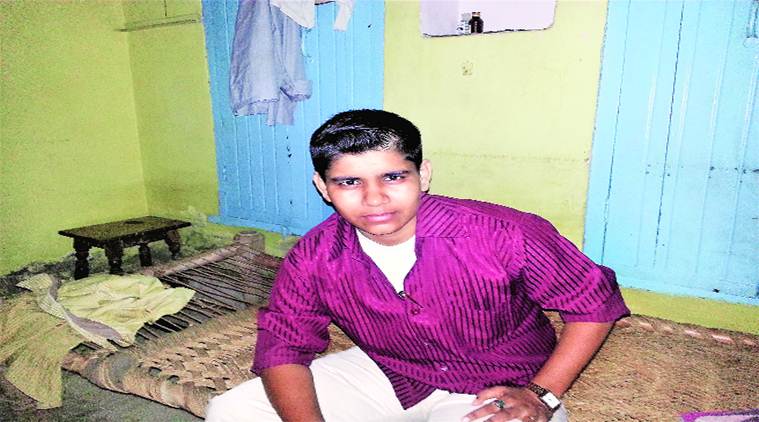 Her persona never gave her away. (Express photo)Around this time, with the first cracks in the marriage appearing, Sen allegedly began an affair with a 22-year-old, the younger sister of one of his friends. She lived in Kaladhungi, 25 km from Haldwani.
On April 29, 2016, Sen reportedly tied the knot with the 22-year-old, without divorcing his first wife. On October 6, 2017, the 29-year-old approached the Kathgodam police against Sen, accusing him of domestic abuse, demand for dowry, and the second marriage.
"Krishna had warned me that he would get my brother and mother killed if I told them about the second marriage. It took a long time to muster the courage to tell my family about it. Once I informed them, we immediately went to the police," she says.
Police finally traced Sen to Haldwani on February 14 this year. The half-an-hour interrogation that followed would change the course of the investigation. Police say that as the questions began to pour in, Sen shouted out, repeating it several times: "Main ladki hoon (I am a woman)."
Kathgodam SHO B L Vishwakarma says everyone in the room was "shocked". "We immediately got a medical examination done and it was established that Sen was actually a woman," Vishwakarma says.
Police had to drop the charges and update the FIR with Sections 417 (cheating), 419 (cheating by impersonation), 467 (forging valuable documents), 468 (forgery for cheating), 469 (forgery for harming reputation), 470 (making false document by forgery) and 471 (use of forged document as a genuine one) of the IPC.
"There have been instances across the country where men and women have duped people into believing that they are from the opposite gender, but a woman planning and plotting to marry other women without disclosing her gender is something that has not been reported here," says ADG (law & order) Ashok Kumar.
Sen's lawyer Inder Kumar Arya, who was roped in last year to handle the dowry-related case, says he was "surprised" when police informed him that his client was a woman. "When I began looking into the case, it was one of alleged demand for dowry, and second marriage. But, now the scenario has completely changed. I am waiting for police to complete the investigation to decide the future course of action," Arya says.
Police claim that their investigations have also led them to several people who have been duped by Sen over four years in Haldwani. In 2016, Sen had bought furniture from a store and paid Rs 2 lakh through cheque to owner Mohammad Zafar, 26. The cheque reportedly bounced.
Sub Inspector (SI) Manju Jyala, the investigating officer in the case, says Zafar didn't initiate legal proceedings at first as he was close to Sen's second wife's family.
Sen also faces another cheque bouncing case, one filed by Mohammad Javed, 33, a mobile phone store owner in Haldwani, to whom Sen was to pay Rs 1 lakh for phones. The case is being heard in a Haldwani court.
SI Jyala says that the "incomplete" details of financial transactions, and entries noted in one of Sen's personal diaries, reveal that Sen had borrowed a lot of money in the past nine years. "We don't know why people were paying her such high amounts. She was clearly not into any business, and didn't have a job," Jyala says.
Before their marriage in 2014, the sexual interaction between them never went beyond hugs and kisses, the 29-year-old says. On their wedding night, she adds, Sen took out a pair of black shorts and a red T-shirt from the grey Godrej almirah in the bedroom of their rented three-room house in Haldwani, and carried the clothes into the bathroom to change. When he locked the bathroom from the inside, she was surprised. "But then I thought it was the first night and Krishna may be shy."
Later that night, when the two lay in bed, and Sen turned off the lone tubelight in the room, her heart raced, she says. But in the cold winter night, as she "gathered the courage" to move her arm around Sen, "Krishna suddenly withdrew". "Not today. I'm too tired," she says Sen told her.
The next morning, Sen was shaving her face "like men, even though he had no facial hair". When the 29-year-old made eye contact, Sen paused and told her: "I am not comfortable with showing you my body, so don't expect me to." She says, "From then on, all our sexual activity happened in pitch dark."
After much insistence, a few months into the marriage, Sen reportedly agreed to reveal her upper body. The 29-year-old says Sen unbuttoned her shirt and took off a tight round-neck T-shirt that she always wore beneath her shirts. Underneath was a broad, black cloth belt covering her chest. When Sen opened the belt, the sight of her breasts, she says, left her aghast.
"Krishna said she was suffering from gynaecomastia (a hormonal imbalance that causes enlargement of male breasts). She showed me photographs and videos of it on the Internet and said that it could be cured," she recalls.
Investigating officer Jyala says Sen had confessed to using sex toys with his first wife.
The 29-year-old admits the same. "Krishna would even use a condom and flush it after sexual activity," she says, adding that it could have been Sen's way of ensuring that she never inspected the condom for semen.
On being approached by The Sunday Express, Sen's second wife, who spent close to two years with her 'husband', refused to comment on the case. Police attribute her silence to her brother and Sen's friend who, they believe, helped Sen dupe people for money. The brother has been on the run since police began searching for Sen.
At Ganesh Vihar colony in Jwalapur, 7 km from Haridwar city, where Sen lived with his second wife for four months, Anoop Singh, who is in his late 30s and from the neighbourhood, says he still remembers his first meeting with Sen.
Singh says a feminine voice greeted him with a "hello", which was followed by a "strong" handshake and a "friendly pat" on the back. The two bonded immediately over a common interest — drinking.
Singh recalls Sen sporting a "boy cut" hairstyle, smoking a lot, catcalling women on the streets and using a "lot of" cuss words. "However, while she walked and talked like a man, unlike us, Krishna never urinated in public," Singh says.
The police, however, find it hard to believe that Sen's two wives could not assess her gender even after being in a sexual relationship. Jyala believes that the two women's denial on this could be out of "shame". "They might have kept mum out of fear of embarrassment in society," the Sub-Inspector says.
It is the only house among 18 at the New Ramganga Hydel colony in Uttar Pradesh's Dhampur town that has a boundary. It is also the only house in the neighbourhood, home to Class IV employees of the Uttar Pradesh Electricity Department, which has an air-conditioner and a generator.
The three-room government accommodation was first allotted to Sen's father Chandrasen, a lineman, about three decades ago. It was given to Sen's elder brother Saurav, after he was appointed in place of Chandrasen, following the father's death four years ago. On a black iron gate at the entrance, hangs a lock.
"No one speaks about the family," says Jeet Singh, 26, who lives alongside the brick-laid narrow street, adding that the family left Dhampur on February 15, a day after Sen was arrested. "When I asked Saurav about where the family was going, he said he had got government accommodation in (UP's) Najibabad (town) and that they were shifting there," Jeet says, while nervously watching each passer-by. On spotting someone from the neighbourhood, he lowers his voice.
Jeet refers to Sen as Sweety. "We read in the newspapers about one Krishna Sen, realising only later that it was Sweety. Her name is not Krishna, it's Sweety. That's what everyone calls her here. And the surname is not Sen… by caste, the family is Mali (traditionally gardeners)," Jeet says.
Police say they have found five Aadhaar cards and four voter identity cards in Sen's name. The year of birth in the cards varies between 1990 and 1993 while the locations oscillate between Kathgodam, Haldwani and Dhampur. While all of the identity cards are in the name of 'Krishna Sen', with the gender as 'Male', a ration card has the name 'Sweety' on it.
According to Jeet, Sen had duped many people in the town too into lending her money, which she never returned. "About 10-12 years ago, she befriended Girender, 38, who lived about a kilometre from here. Everyone knew Sweety was his girlfriend," he says. "Within a year, Sen made Girender sell his 3 bighas in Dhampur for a few lakhs. After selling all his land, when he had no more money to give her, she dumped him," Jeet alleges.
While neighbours claim to have not interacted much with the family, they say they occasionally heard Sen and her father quarrelling over her "habit of duping people of their money". As a result of her father's objections, she reportedly often stayed away from home. But since his death, the visits back home increased, the neighbours add.
Police, who are also on the lookout for the family, believe they played a role in Sen hiding her identity.
"When I was around, her siblings addressed Krishna as 'bhai'. The mother had visited my house to finalise the marriage. I am shocked that the family not only supported the crime, but was fully involved in the plotting and planning of the marriage," says Sen's first wife.
http://indianexpress.com/article/india/one-part-man-how-sweety-became-krishna-sen-5093416/