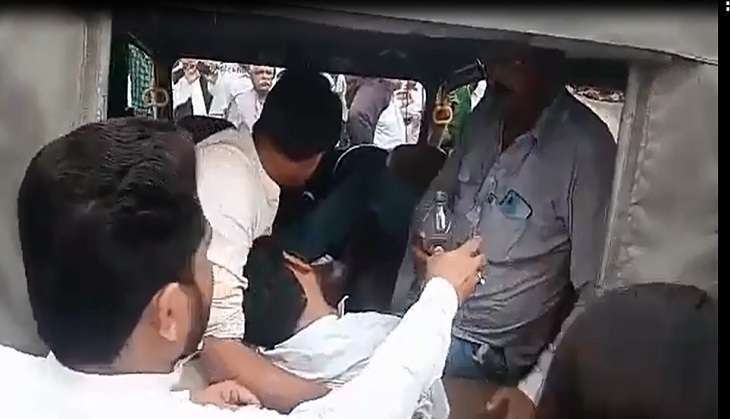 Police stop stir, arrest protesters
TNN | 
Lucknow: Even before human rights' activists could begin their peaceful protest against Bhopal police's alleged fake encounter, they faced police brutality atGandhi statue in Lucknow on Wednesday.
Around half a dozen activists were injured, rushed to the Trauma centre and one hospitalised, leading to angry protests amid sloganeering at the police station. Later, under pressure, an FIR against two cops, sub-inspectorOmkar Nath Yadav and Vijay Kumar Pandey, was lodged for 'voluntarily causing hurt' under section 323 of the Indian Penal Code.
At around 3pm, Rihai Manch activists were dragged, beaten up by canes in the premises of Gandhi park and all across the main crossroad of Hazratganj before being detained by police for organising a peaceful protest.
Protesters had started converging at Gandhi statue, demanding judicial probe in Bhopal killing, when, according to the FIR, they were coerced by cops to disband the protest and not put up banners. Another protest taking place on the same venue was, however, not disturbed.
On refusal to budge, Rihai Manch general secretary Rajeev Yadav, Shakeel Qureshi and others, were thrashed, detained first at the police outpost and then at the Hazratganj police station, where, too, they alleged being beaten up.
"It is shameful that police in large numbers assaulted peaceful protesters. This puts a question mark on the state government and police's intentions," said ProfRamesh Dixit, chairman of Centre of Objective Research and Development (CORD).
"The encounter was fake and enacted at the government's behest against which we came together to demand fair investigation, but police here too is strong only against the weak," said Mohammad Shoaib, president, Rihai Manch.
As the news got out, hundreds of supporters reached the police station demanding suspension and arrest of the assaulting cops, after which the FIR was lodged.
http://timesofindia.indiatimes.com/city/lucknow/Police-stop-stir-arrest-protesters/articleshow/55220138.cms