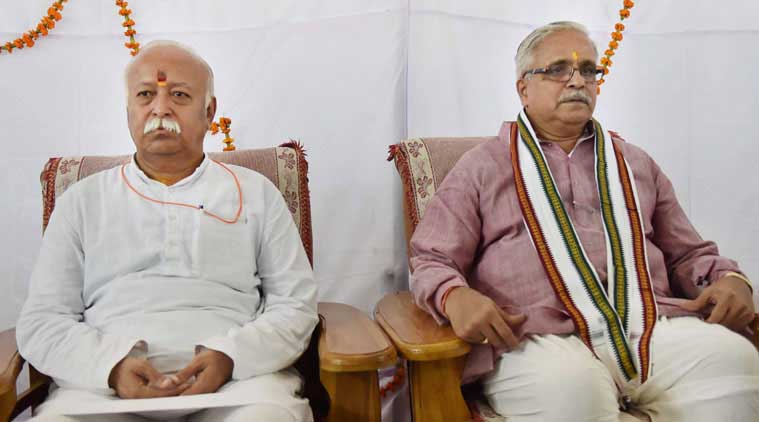 RSS
chief
Mohan Bhagwat
(left) with general secretary Bhaiyyaji Joshi (right). (file/photo)
Written by 
Liz Mathew
 | New Delhi | Updated: April 15, 2015 11:48 am
The RSS's efforts to claim B R Ambedkar's legacy took a controversial turn Tuesday when the outfit's generalsecretary Bhaiyyaji Joshi said it was worrisome that Ambedkar received the BharatRatna ten years after Mother Teresa.
"Bharat Ratna had been awarded to someone like Mother Teresa ten years before B R Ambedkar. Its cause for worry," Joshi said at the release of specialissues of RSS mouthpieces Organiser and Panchajanya on Ambedkar, whose birth anniversary was observed Tuesday.
Speakers at the eventtried to bring out "unexplored dimensions" of the Dalit icon.
Comparing RSS founder K B Hegdewar and Ambedkar, Joshi said Hegdewar tried to address questions raised by Ambedkar over untouchability and caste divisions in Hindu society. "Ambedkar envisaged a country where everyone is underone umbrella i.e a Hindu," Joshi said.
Opinion: How we failed Ambedkar
Social scientist and former PlanningCommission member Narendra Jadhav said he was attending the RSS function as he considered himself fortunate to be present at an eventto honour Ambedkar who, he said, had pioneered several economicinitiatives in the country and his Evolution of Provincial Finances in British Indiahad been the basis for allFinance Commissions.
Panchajanya editorHitesh Shankar, while countering the criticism that RSS and BJP are staking a claim to Ambedkar's legacy with an eye on elections, said: "Both Panchajanya and Organiser have always carried specialarticles on Ambedkar's views… Baba is for everyone. If he is a bigtree, everyone gets its shadow".
A short film on Ambedkar's life shown during the function, had messages from UnionMinisters Sushma Swaraj and Thawar Chand Gehlot who reiterated that Ambedkar's legacy cannot be claimed by one party or group.
Articles in the specialissue argue that Ambedkar was close to RSS ideology. An articleby B R Idate reads: "He had greatregard and curiosity about RSS… He visited the RSS camp and felt very happy observing the totalabsence of caste feeling and affiliation." Another articleby seniorRSS leader Krishna Gopal quotes Ambedkar as saying: "The Prime Minister's (Nehru) whole timeand attention is devoted for the protection of the Muslims. I yield to none, not even the PM in my desire to giveMuslims of Indiautmost protection…But what I want to know know is are the Muslims the only peoplewho need protection?."
The articlefurther says that when Sheikh Abudllah tried to persuade Ambedkar on the issue of Article370 in J&K, he said: "You want that Indiashould defend Kashmir, Indiashould develop Kashmir and Kashmiris shouldhave equal rights as the citizens of India but you don't want Indiaand any citizen of Indiato have any rights in Kashmir. I am the Law minister of India. I cannot betray the interests of the country".
http://indianexpress.com/article/india/india-others/rss-raises-ambedkar-vs-mother-teresa-row/