Sisodia's family members have refused to cremate the body unless the UP government pays them Rs 1 crore as compensation, recommends a CBI probe.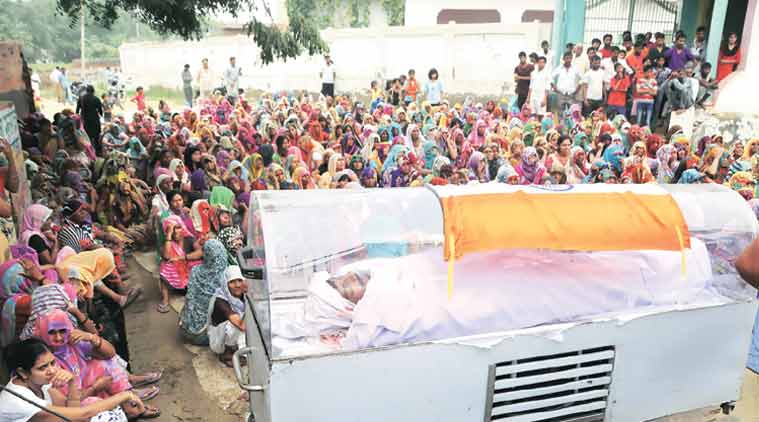 Ravin Sisodia's body in Bisara, Thursday. (Express Photo: Gajendra Yadav)Less than a kilometre from where Mohammad Akhlaq was lynched last year for allegedly consuming beef, hundreds of Bisara residents gathered on Thursday around a deep-freezer casket draped with the Tricolour. The casket contained the body of 21-year-old Ravin Sisodia, an accused in Akhlaq's killing, who died at LNJP Hospital in Delhi Tuesday evening.
Sisodia's family members have refused to cremate the body unless the UP government pays them Rs 1 crore as compensation, recommends a CBI probe, takes action against officers at a Greater Noida jail, where he had been lodged, and arrests Akhlaq's brother, Jaan Mohammad, on charges of cow slaughter.
The district police, meanwhile, turned the village into a veritable fortress with VHP leader Sadhvi Prachi visiting Bisara on Thursday to express her solidarity with Sisodia's family. Two companies of Provincial Armed Constabulary (PAC) have been deployed, and extra security forces from Gautam Budh Nagar, Bulandshahr and Ghaziabad brought in.
By Thursday evening, talks between the administration and a 11-member committee of Bisara residents, including family members of Ravin, hit a roadblock on two issues — the arrest of Mohammad and compensation for Ravin's family.
Dadri Beef Lynching Accused Dies In Jail, Kin Blames Jail Administration
While village residents maintained that a meeting of residents from nearby villages will be called on Friday morning, the local administration maintained that efforts to negotiate with Bisara residents and Ravin's father would continue.
"They have said that the body will not be cremated if Mohammad is not arrested. They also did not agree to accept the Rs 10 lakh that was being offered by the state government as compensation and demanded Rs 1 crore. We are trying to reach out to Ravin's family. For now, they have refused to cremate him," said a senior police officer.
"If our demands are not met, the cremation will not take place. The administration has given us some assurances but we are not satisfied. Our main aim is Mohammad's arrest and unless that happens, we will not cremate the body," said Hari Om, the husband of Bisara pradhan Kaushalya Devi.
The residents of Bisara also took out a candlelight march to the village gates. Insisting that the people of Bisara were "not in a state to take a decision" about the next step, Sanjay Rana, local BJP leader and father of Vishal, an accused in the case, said, "The state government has not shown any kind of sensitivity. Only (SP leader) Azam Khan's rule exists in UP. Our patience is running out. The administration knows who are responsible for his death but what action has it taken till now? A CBI inquiry should be conducted in this case. Like in the case of Akhlaq, Ravin's family should get Rs 45 lakh and apartments to live in."
Earlier, addressing the residents, Sadhvi Prachi said, "All those in the government have deep love for topiwallahs…these people exploit you. Teach them a lesson."
Asking "Hindus" to unite, and referring to the Muzaffarnagar riots, Prachi said, "Dadri ko Uttar Pradesh sarkar Muzaffarnagar kand na banaye (The UP government should not turn Dadri into a Muzaffarnagar-like incident)."
Gautam Budh Nagar police said they would initiate action against Prachi for making inflammatory statements.
Dharmendra Singh, SSP, said, "We are recording the events on video. If any person gives provocative speeches and tries to disturb peace there, strict legal action will be taken. But since a dead body has been kept there and a lot of people are visiting to console the family and friends, we are allowing people to enter the village."
Singh said, "We are on alert. A young man has died, people are emotional and there is anger. But there is no communal tension. Forces have been deployed as a precautionary measure and to ensure that some elements do not try to take advantage of the situation. We are in talks with the residents of the village."
Another senior police officer said that "a no-entry for vehicles that do not belong to Bisara or its residents have been enforced, and all village gates are being manned by police officers". "Two fire engines have been stationed, too," the officer said.
N P Singh, district magistrate, Gautam Budh Nagar, said that he was "in constant touch with Ravin's father".
"His family wants Rs 1 crore as compensation, a government job, a CBI inquiry and action against jail officials. The state (UP) government has said that Rs 10 lakh will be given to the family on humanitarian grounds. The state government has also said that in case the family is not satisfied with the judicial inquiries in the case, the government will propose a CBI inquiry if the family asks for it," said Singh.
Sisodia's body was brought back to Bisara late Wednesday night after a post mortem at LNJP Hospital and kept in a freezer as his family members and those of the 16 others accused hailed him as a "martyr". Sisodia, who had tested positive for dengue, died of respiratory and renal complications on Tuesday, according to doctors at LNJP hospital.
According to Hari Om, residents want to give Ravin the "same respect" accorded to martyrs. "He was killed by the jail administration. We will not cremate his body until the district administration suspends the jail officials, gives Rs 1 crore as compensation to his family, gives his wife a government job," Om alleged.
On September 28 last year, a mob attacked 50-year-old Akhlaq, dragging him outside his house and beating him to death while his younger son 22-year-old Mohammad Danish received severe head injuries, according to police.
The mob assembled outside Akhlaq's house minutes after an announcement in the village which asked residents to assemble since a cow had allegedly been slaughtered in the village, police had said.http://indianexpress.com/article/india/india-news-india/dadri-lynching-accused-ravin-dead-body-tricolour-mohammad-akhlaq-probe-3069639/