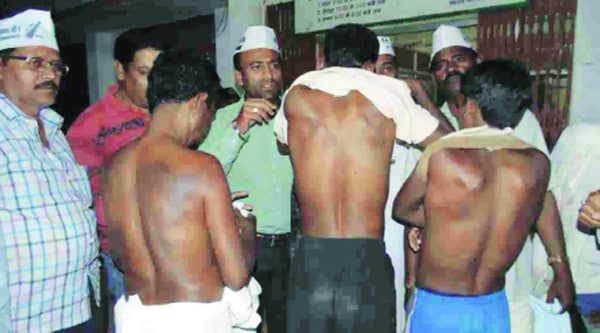 Tribals show their injury marks. (Express)
The arrest of some tribals in Sukma has snowballed into a major agitation as several thousand tribals have begun a march towards the district headquarters.
Led by AAP leader Soni Sori and other party workers, the tribals also held a rally in Jagdalpur before leaving towards Sukma.
The tension began after the Tongpal police arrested one Muchaki Hidma, a cook in a local government school, and 10 other residents of Hamirgarh village last week when they were sleeping in their homes.
A day later, villagers along with Hamirgarh sarpanch Lakmu Nag gheraoed the Tongpal police station and asked them to release the men.
While the others were released, Hidma was charged with the murder of an alleged police informer Anil Thakur.
According to police, Maoists had killed Thakur with the help of Hidma a few months ago.
Hidma was later produced before a Dantewada court and sent to jail.
As agitated villagers continued to block Jadgalpur-Sukma national highway, claiming that Hidma has been falsely implicated, police arrested three of the tribals present in the gathering — Kawasi Hidma, Podiyami Budra and Mandavi Ramji.
Subsequently, Soni Sori, who had contested the Lok Sabha election from Bastar, also arrived and joined the agitation with other AAP members.
After their release late on Thursday, the trio alleged that the Tongpal policemen thrashed them. They were later brought to Maharani Hospital in Jagdalpur Thursday night. They alleged that the Bastar police refused to even register an FIR.
http://indianexpress.com/article/india/india-others/tension-in-sukma-after-police-arrested-tribals-and-tortured-them/