In Syria I learned that Islamic State longs to provoke retaliation. We should not fall into the trap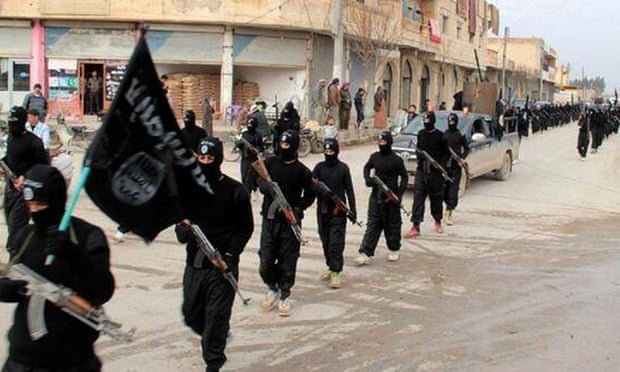 As a proud Frenchman I am as distressed as anyone about the events in Paris. But I am not shocked or incredulous. I know Islamic State. I spent 10 months as an Isis hostage, and I know for sure that our pain, our grief, our hopes, our lives do not touch them. Theirs is a world apart.
Most people only know them from their propaganda material, but I have seen behind that. In my time as their captive, I met perhaps a dozen of them, including Mohammed Emwazi: Jihadi John was one of my jailers. He nicknamed me "Baldy".
Even now I sometimes chat with them on social media, and can tell you that much of what you think of them results from their brand of marketing and public relations. They present themselves to the public as superheroes, but away from the camera are a bit pathetic in many ways: street kids drunk on ideology and power. In France we have a saying – stupid and evil. I found them more stupid than evil. That is not to understate the murderous potential of stupidity.
All of those beheaded last year were my cellmates, and my jailers would play childish games with us – mental torture – saying one day that we would be released and then two weeks later observing blithely, "Tomorrow we will kill one of you." The first couple of times we believed them but after that we came to realise that for the most part they were bullshitters having fun with us.
They would play mock executions. Once they used chloroform with me. Another time it was a beheading scene. A bunch of French-speaking jihadis were shouting, "We're going to cut your head off and put it on to your arse and upload it to YouTube." They had a sword from an antique shop.
They were laughing and I played the game by screaming, but they just wanted fun. As soon as they left I turned to another of the French hostages and just laughed. It was so ridiculous.
It struck me forcefully how technologically connected they are; they follow the news obsessively, but everything they see goes through their own filter. They are totally indoctrinated, clinging to all manner of conspiracy theories, never acknowledging the contradictions.
Everything convinces them that they are on the right path and, specifically, that there is a kind of apocalyptic process under way that will lead to a confrontation between an army of Muslims from all over the world and others, the crusaders, the Romans. They see everything as moving us down that road. Consequently, everything is a blessing from Allah.
With their news and social media interest, they will be noting everything that follows their murderous assault on Paris, and my guess is that right now the chant among them will be "We are winning". They will be heartened by every sign of overreaction, of division, of fear, of racism, of xenophobia; they will be drawn to any examples of ugliness on social media.
Central to their world view is the belief that communities cannot live together with Muslims, and every day their antennae will be tuned towards finding supporting evidence. The pictures from Germany of people welcoming migrants will have been particularly troubling to them. Cohesion, tolerance – it is not what they want to see.
Why France? For many reasons perhaps, but I think they identified my country as a weak link in Europe – as a place where divisions could be sown easily. That's why, when I am asked how we should respond, I say that we must act responsibly.
And yet more bombs will be our response. I am no apologist for Isis. How could I be? But everything I know tells me this is a mistake. The bombardment will be huge, a symbol of righteous anger. Within 48 hours of the atrocity, fighter planes conducted their most spectacular munitions raid yet in Syria, dropping more than 20 bombs on Raqqa, an Isis stronghold. Revenge was perhaps inevitable, but what's needed is deliberation. My fear is that this reaction will make a bad situation worse.
While we are trying to destroy Isis, what of the 500,000 civilians still living and trapped in Raqqa? What of their safety? What of the very real prospect that by failing to think this through, we turn many of them into extremists? The priority must be to protect these people, not to take more bombs to Syria. We need no-fly zones – zones closed to Russians, the regime, the coalition. The Syrian people need security or they themselves will turn to groups such as Isis.
Canada withdrew from the air war after the election of Justin Trudeau. I desperately want France to do the same, and rationality tells me it could happen. But pragmatism tells me it won't. The fact is we are trapped: Isis has trapped us. They came to Paris with Kalashnikovs, claiming that they wanted to stop the bombing, but knowing all too well that the attack would force us to keep bombing or even to intensify these counterproductive attacks. That is what is happening.
Emwazi is gone now, killed in a coalition air strike, his death celebrated in parliament. I do not mourn him. But during his murder spree, he too followed this double bluff strategy. After murdering the American journalist James Foley, he pointed his knife at the camera and, turning to the next intended victim, said: "Obama, you must stop intervening in the Middle East or I will kill him." He knew very well what the hostage's fate would be. He knew very well what the American reaction would be – more bombing. It's what Isis wants, but should we be giving it to them?
The group is wicked, of that there is no doubt. But after all that happened to me, I still don't feel Isis is the priority. To my mind, Bashar al-Assad is the priority. The Syrian president is responsible for the rise of Isis in Syria, and so long as his regime is in place, Isis cannot be eradicated. Nor can we stop the attacks on our streets. When people say "Isis first, and then Assad", I say don't believe them. They just want to keep Assad in place.
At the moment there is no political road map and no plan to engage the Arab Sunni community. Isis will collapse, but politics will make that happen. In the meantime there is much we can achieve in the aftermath of this atrocity, and the key is strong hearts and resilience, for that is what they fear. I know them: bombing they expect. What they fear is unity.
http://www.theguardian.com/commentisfree/2015/nov/16/isis-bombs-hostage-syria-islamic-state-paris-attacks