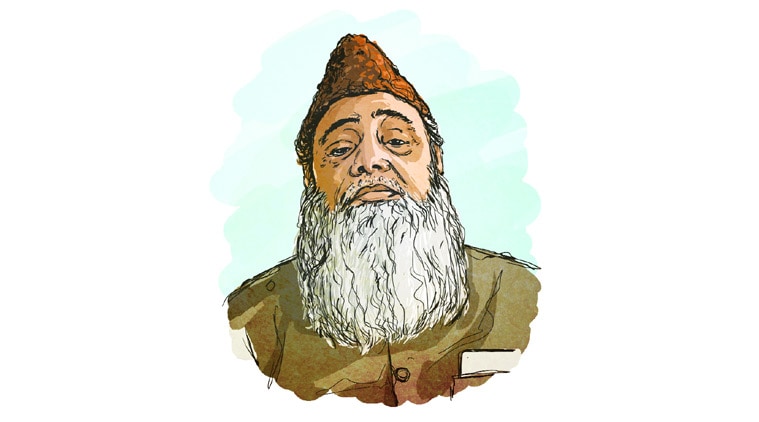 Besides himself and his three sons, the fifth member of Maulana's family to be arrested for alleged terror links was Obaid-ur-Rehman.
In the circles of police's "SIMI investigations", Maulana Naseeruddin's name comes up often. Police have filed cases against five members of his family till today and after spending years in jail, they have been acquitted. The acquittal of his younger son Raziyuddin Nasir in a Hubli court along with 16 other suspected SIMI men Thursday is the fourth time members of his family have been acquitted in the last five years.
Besides himself and his three sons, the fifth member of Maulana's family to be arrested for alleged terror links was Obaid-ur-Rehman, a BCom student from Hyderabad, who was arrested in September 2012. He is Naseeruddin's sister Tahira Khatoon's grandson. "He was arrested in Hyderabad and booked in a case by Bangalore Police. Then he was also booked in a case in Delhi,'' he said.
Maulana Naseeruddin
On October 31, 2004, Naseeruddin went to the DGP's office to sign his weekly attendance in an earlier case of communal violence. "Two months earlier, I had been arrested after police claimed I was going to plant bombs at a Ganesh temple. I fell ill and was shifted to hospital. Our lawyer friends secured bail," Naseeruddin said. "That day, the CID officer who would take my signatures told me a senior officer wanted to talk to me." He said he was taken to the IG, who said an arrest warrant for him had come from Gujarat.
This followed protests and Andhra Pradesh government promised a magisterial inquiry besides filing a case against Gujarat police. "Till today, the result of that enquiry hasn't come,'' he said. However, a case of rioting was lodged against Billa.
Naseeruddin was taken to Gujarat and arrested on charges of instigating Pandya's killers, but subsequently booked in the Ahmedabad conspiracy case – an alleged conspiracy to avenge Gujarat riots. On January 12, 2010, a designated POTA court acquitted 13 men, including him.
"In those five years, all my three sons had been arrested," he said. "When Gujarat police shot Mujahid, my youngest son Raziyuddin was there. For months, he would talk about revenge. My wife told me he had to be taken to a psychiatrist,"he said.
"I was in jail when I heard Bangalore police arrested him (in 2008)." Naseeruddin said that when Raziyuddin was first arrested, he was accused of stealing a bike. "But Bangalore police simultaneously framed him in a big terrorism conspiracy case… This is the case in which he was acquitted yesterday,'' he said. "A lot of injustice has been done to us. Police arrest us and by the time the court acquits us, each of us has already spent years in jail. We are not enemies of this country, this is our country, our home too. But why is there no justice for us?''
He said his two elder sons, Maqeemuddin Yasir and Baleeguddin Jabir, were framed. "Yasir was manager of our workshop while Jabir was an engineering student. They were accused of being involved in the Mecca Masjid and other blasts," he said. "Police couldn't get evidence to charge them but didn't release them. They were sent to MP where their names had been included in a SIMI case in Dhar. They had never been to Dhar."
"Lawyers in Dhar wouldn't let anyone represent us,"he said. "We approached the Supreme Court. The case was shifted to Indore and they were acquitted. They had already been in jail for four years and two months".
Raziyuddin Nasir
On January 30, 2008, according to DSP Satyapaa Sambha Khote, Special Enquiry Squad, Bangalore, one Mohd Asif was stopped by an police in Hubli for driving his bike very fast. "It was found that he did not have documents of the bike. The vehicle was seized and a case filed," Khote's investigation revealed.
Subsequent probe allegedly revealed Asif's "involvement" with SIMI. The police made 18 more people accused, including Raziyuddin. In the affidavit, Khote claimed Asif, a medical student, and two other accused had met in "Castle Rock, Haliyal Road farmhouse, and Soudatti Road Darga" in the last week of April 2007, "aimed inter-alia at Islamisation of the world by means of Jihad". As per Khote, the three held another "conspiracy meeting" at Castle Rock in November 2007 where they decided to "damage the sovereignty of the government of India and to ignite anti-national sentiments… ultimately changing the elected sovereign government and establishing Islamic government".
Karnataka police said Asif's narco-analysis revealed that Gujarat riots had affected the youths. As per Khote, Raziyuddin was part of this group. He (Khote) produced a "confessional statement" in which he apparently admitted going to Pakistan for arms training and said he was disillusioned after his father was arrested on charges later proved fake and the death of "our family friend" Mujahid. "These two incidents made me believe in Jihad, Raziyuddin was quoted as saying." He was later booked in 2008 Ahmedabad blasts case and is currently in Sabarmati jail in Gujarat.
http://indianexpress.com/article/india/india-others/this-is-our-country-too-why-no-justice-for-us-says-maulana-naseeruddin/99/