HIGHLIGHTS
Scores of girl students of Farook College took out 'watermelon march' holding slices of watermelon in their hands and sought action against assistant professor Jouhar Munavvir T.
The teacher had said that girls were not wearing their hijab properly and were deliberately exposing their chest just like 'slices of watermelons on display.'
Kerala professor's remark that Muslim girls were not wearing the hijab properly and deliberately exposing their chests like "sliced watermelon" has triggered widespread protests across the state
Hindustan Times, Thiruvananthapuram
A remark by a professor of a teachers' training college in Kerala's Kozhikode that Muslim girls were not wearing the hijab properly and deliberately exposing their chests like "sliced watermelon" has triggered widespread protests across the state by students with some women posting nude photographs.
Many student organisations protested outside Farook Training College, where Jouhar Munavvir T teaches, seeking action against him.
They said they will send slices of watermelons to the teacher just like the 'Pink Chaddi' campaign in response to the attack on women in a pub in Mangaluru in 2009 by activists of rightwing fringe group Sri Ram Sene.
"We will flood him with watermelons," student activist P Ajitha said.
A few women students supporting the teacher also took out a rally on the campus whipping up tension in the college.
Students in other colleges also protested carrying sliced watermelons and sought strict action against Munavvir.
Some women even took to social media to post bare-breasted photos, which were removed by Facebook.
Television channel NDTV reported that 25-year-old Arathy SA was among those, who posted a nude picture, and that and her husband too shared the photo.
"I am upset with hypersexualisation of breasts by people. Whether it be professors in college or social media users seeing a model breastfeed and pose for a magazine. So I and my husband posted pictures of me nude," Arathy was quoted as saying by the news channel.
"Just because people may find my breasts attractive, doesn't mean they are entitled to violate me or my body," Arathy added.
Activist Diya Sana from Kochi also posted the picture of one of her activist friends, using watermelons to suggestively cover her breasts and face.
Munavvir made the controversial remark while speaking at a religious seminar in Kozhikode in north Kerala recently.
"I am a teacher of a college where 80% of students are girls and a majority of them are Muslims. Though they wear the hijab, they expose some part of their chest defeating the very purpose of wearing them. They expose, you know like how we cut a slice of melon to see whether it is ripe or not," Munavvir said.
He said parents and religious leaders should take note of such trends as they were un-Islamic and against the very tenets of the religion.
"You should see how they wear hijab. They cover their heads with a scarf. They wear hijab in a way their chest is not covered. We all know a woman's bosom is one of the body parts that attract man most. But our girls expose their chest giving an impression that the rest of their body is like the exposed part," he said.
The speech was later uploaded to social media sites and netizens started criticising the teacher for his "Taliban-like comments."
However, principal of Farook College CA Jawahar said the teacher made the statement during a counselling session three months ago outside the college and it was unfair to whip it up now.
"He goes regularly for religious discourses. We have nothing to do with it and no student has filed a complaint in this regard," he defended the teacher, saying only a portion of his speech was circulated.
Munavvir, a social science teacher, has been working with the college for the last six years
Facebook Blocks Accounts of Women For Their 'Topless Protest' Against Professor's Sexist Remark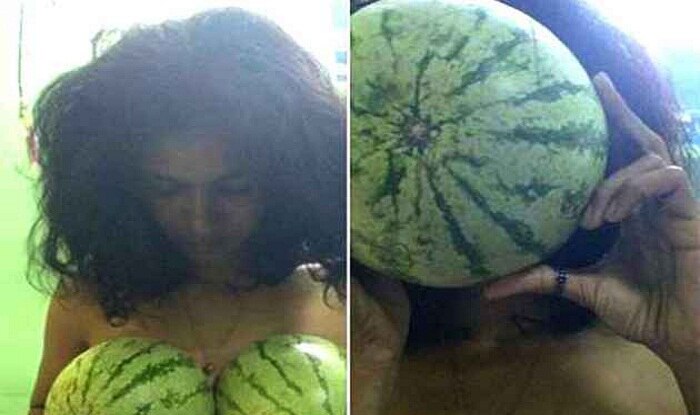 Thiruvananthapuram, Mar 19: Two women from Kerala went topless on social networking site Facebook to protest against a professor, who reportedly said that girl students of his college do not cover their chests with hijab but display them like the slice of watermelon.
A campaign against the professor of Farook Training College in Kozhikode was launched by a man called Vishnu shared his partner Arathy SA's topless picture on Facebook in protest. Following the footsteps, Thiruvananthapuram-based Diya Sana posted pictures of a topless woman holding watermelons on the social networking site.
However, the Facebook has removed their pictures and blocked their accounts, the campaign has received both support and criticism. The professor's had invited wrath after a voice clip allegedly from his speech during a family counselling went viral on social media.
"I am a teacher of a college where 80 per cent of the students are girls and of that, a majority are Muslims. These girls are not wearing the dress as per the religious tradition. They are not covering their chests with hijab. But showing part of it is like a slice of red watermelon being displayed," he has been heard saying in the clip, as translated by The Deccan Chronicle newspaper.
The professor lashed out at girls wearing leggings, saying the girl students hold purdahdeliberately up to show off the leggings.  He went on to warn them that this kind of immoral dress style will lead them to lose both physical and spiritual worlds.
"It's all your choice. Women should have the liberty to wear what they like. I wonder when would our society stop objectifying women?" Sana told Manorama. "What is wrong in uncovering your physique before people? The same social spaces which celebrate male bodies frown at female bodies and shame it. 'Nudity' becomes a taboo when a woman reveals her body. I have slammed this patriarchal attitude many times," another woman, Rehana, was quoted as saying.
HT and India/com