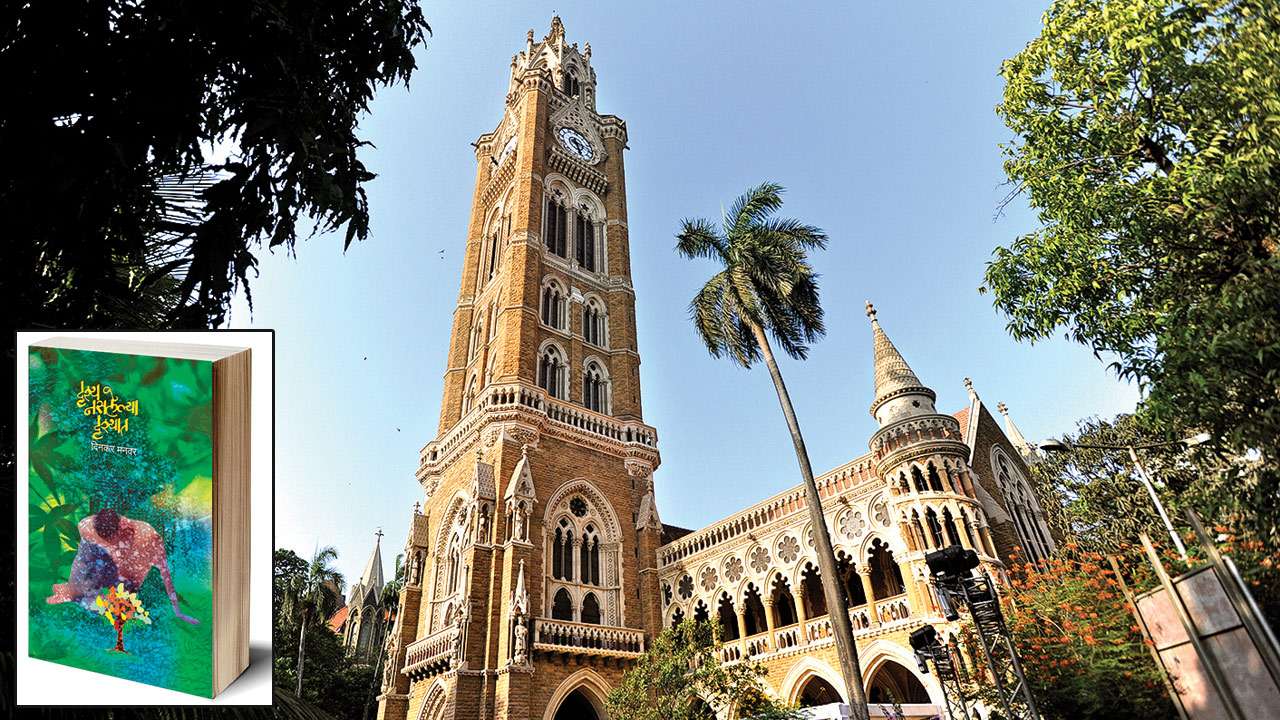 The poem forms a part of the syllabus of the third year BA course (inset) Manwar's book Drushya Naslelya Drushyat
Updated: Sep 30, 2018, 06:30 AM IST
In the face of objections by student activist groups at the Mumbai University, the University's Board of Studies, Marathi, has decided to withdraw a poetry, 'Pani Kasa Asta' (The Nature of Water) from third-year bachelor of arts Marathi syllabus.
The Marathi poem, written by Dinkar Manwar, compares the colour of the water to that of breasts of tribal girls. The poem is part of 'Drushya Naslelya Drushyat' (A scene that is not apparent), Manwar's debut collection of poems and was included in the syllabus for the 2018-19 academic year.
A line in the third paragraph reads: "Kiva adivasi porichya sthanansarkha jambhale" which translates to "or violet like the breasts of an Adivasi girl". Objecting to the explicit comparison, students from the community studying in the varsity decided to hold a protest march on October 1 to lodge their dissent.
While students wings like Yuva Sena and Chatrabharti Vidyarthi Sena (CVS) requested the vice-chancellor to remove the poem from the syllabus, Akhil Bharatiya Adivasi Vikas Parishad threatened to stage a protest in the campus.
Dr Nilkant Shere, member of Board of Studies, Marathi, said, "On Saturday, a meeting was held over the issue. After some reflection, we decided to withdraw the poetry in order to avoid community issues. Rest other poetries will be taught to students and come in their exam too."
The meeting was called by the dean of Faculty of Arts, Dr Murlidhar Kurhade and was attended by seven members from the Board of Studies.
Even though the poetry has been removed from the syllabus of, students of Akhil Bharatiya Adivasi Vikas Parishad confirmed that they will protest on October 1.
Lucky Jadhav, president of Akhil Bharatiya Adivasi Vikas Parishad (North Maharashtra) said, "Even though the poem has been removed from the syllabus, we will stage the protest and meet the vice-chancellor on Monday. He has called the members of our organisation for a meeting. We want clarification from the University authorities on the matter."
MANWAR'S BOOK
The poem is part of 'Drushya Naslelya Drushyat', Dinkar Manwar's debut collection of poems published in 2014
The book was included in the TYBA (Marathi) syllabus for the 2018-19 academic year by Mumbai University's Board of Studies earlier this year
DNA