,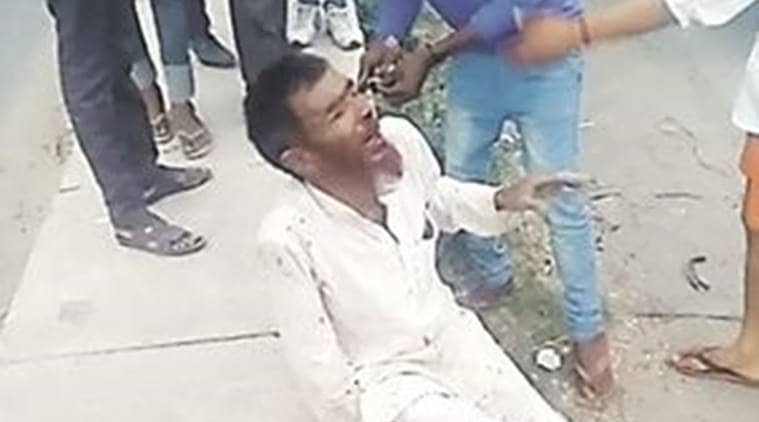 Wounded Amzat Khan and family of Rafeeq from Pehlu Khan's village demand justice.
Banjara Community from State demand immediate end to loot by cow vigilantes.
Farmer and cow-rearer are economically so closely linked that cow vigilante attacks will only disrupt Rajasthan's economic condition – Prof. V.S. Vyas, Rajasthan Planning Board, Vice-President.
We are ashamed that Pehlu Khan was attacked in the middle of the busiest highway and nobody stepped forward to save his life – Harsh Mander, Ex-IAS and Writer.
All places where violence in the name of cow protection have happened, from Ahmedabad to Alwar, have to be connected and we must undertake a rally. – Jignesh Mevani, Dalit Youth Leader.
Attacks in the name of cow exposes Narendra Modi's neo-liberal and Hindutva-Fascist face. MLA Rajkumar, Jharkhand.
This is the struggle to protect our constitution. Nikhil De, MKSS
A 3-day dharna commenced today outside Rajasthan Legislative Assembly demanding immediate arrests of murderers of Pehlu Khan, withdraw false case and allegations against Pehlu Khan and provide adequate compensation to his family and to the wounded and to put a stop to the gundaraj that has begun in this country in the name of cow protection.
Two memorandums in the name of Chief Minister and Prime Minister signed by people is attached with. Discontent prevailed among the people when the Chief Minister neither met nor sent any message even after trying for four times.
Present at the protest were brothers Yusuf and Rafiq (whose ribs were broken), and brother-in-law Kallu of the gravely injured Azmat Khan, Pehlu Khan's friend who was attacked on 1 April in Behrod. Yusuf informed that Azamat Khan's spine is seriously damaged and he cannot even stand on his feet. Similarly Rafiq is not able to work. They demanded support in their struggle for justice and expressed their hope to meet CM Vasundhara Raje.
Cow Gypsies and Gypsy Youth Movement Leader Paras Banjara from district Rajsaman narrated their tale and said that the entire Gypsy Community is distraught because their work is to buy, rear and sell cattle. Continuously, so-called cow protectors are looting them and demanding extortion from them. They declared that if government refuses to provide them safety and protection from these so-called cow protectors, they will launch a non-cooperation movement.
Rajkumar, MLA from Jharkhand called it the neo-liberal and Hindutva-fascist face of Narendra Modi and warned that CM Vasundhara Raje's silence on the murder of Pehlu Khan will be assumed as her silent consent to the murder.
Former IAS Harsh Mandar, who participated in the rally, described this as an embarrassing incident to the people of India and said that he himself is ashamed that the majority community is not standing against this daily crime. He told the example of the US that when the newly elected President Donald Trump banned the entry of Muslims from seven countries in the US, the common citizens and lawyers of the locality reached the airport, protesting against it and taking legal action against it and did not allow this human and special anti-community decision to be implemented. He said that the values of this country's brotherhood and Vasudeva Kutumbkam have been sidelined by today's pro-Hindu politics. He declared upon the protestors/citizens to reflect it.
Jignesh Mewani, the emerging Dalit youth leader from Gujarat who joined the three day protest said through slogans that we strongly oppose to the politics of the cow's name.
"You can catch the tail of the cow, give us five bigha land, 2 million jobs and 3 million homes per year."
He said that the answer to the increasing violence of the alleged cow protectors is that we connect all these areas and announced a journey from Nuh to Alwar to Ahmedabad. We should be aware that Mohammad Ayub was beaten to death in Ahmedabad. He also proposed to visit the village of Pehlu Khan and to extend his proposal of the three-day yatra.
Representatives of many organizations, primarily – Mev Panchayat, Mevat Yuva Sangathan, Mev Shiksha Panchayat, Jamait-ulmea-hind, Qureshi Samaj,SDPI, SIO, Janwadi Mahila Samiti, NFIW, PUCL, MKSS etc. addressed the protest.
IAS Officers from the 1968 batch – like Home Secretary, Arun Kumar, ex-Governor Gopal Krishna Gandhi, Aruna Roy etc. wrote an open letter to the CM, which is attached here.
25 April will see the participation of Pehlu Khans family members, Women's Movement Leader Farah Naqvi, Kavita Krishnan from AIPWA, Jignesh Mevai, Com. Md. Salim and Harkesh Bugalia from Construction Labour Union.
We are:-
Rajasthan Nagrik Manch, Peoples' Union for Civil Liberties, Rajasthan, CPIM, CPI, Dalit Shoshan Mukti Manch, NFIW, AIDWA, Jan Vichar Manch, Dr. Ambedkar Vichar Manch, Welfare Party, Jamayte Islami Hind, Zari Handloom Work Union, SIO, Rajasthan Samagra Sewa Sangh, Akhil Bhartiya Kisan Sabha, SFI, Mazdoor Kisan Shakti Sangathan, Suchna evam Rozgar Adhikar Manch, Dalit Adhikar Kendra, National Muslim Women Welfare Society, Vividha, Mahila Punarvas Samooh, NAPM, SDPI, Samta Gyan Vigyan Samiti, Ruva, Pink City Zari Handloom Work Mazdoor Union, Aaritari Zardoz Ekta Sangathan, HRLN, Zamayte Ulema Hind, JDU, Samajwadi Party,MCPI, Rajasthan Kacchi Basti Federation, Jaipur Kacchi Basti Maha Sangh, CPI ML, Liberation, Banjara Yuva Shakti Sangathan, AIDMAM, Rajasthan Mahila Kamgaar Union.