A 32-year-old was brutally killed, allegedly by her husband, in Bijnor district of UP last month. But no tears are being shed there for the woman, who was divorced, remarried, and returned.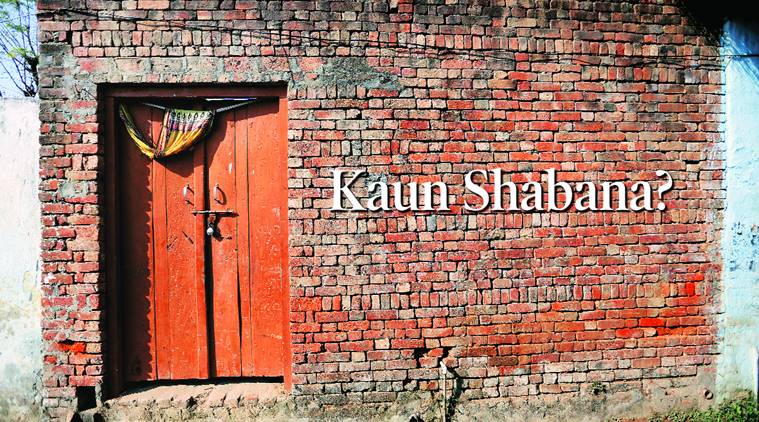 In Noorpur village, where Shabana's home stands locked, her sister says "she got involved in wrong things". The 32-year-old was found with her throat slit and her private parts cut open. She was killed allegedly by her husband for being found with another man, whom she had to marry so that her husband who had divorced her could accept her back, as part of 'nikaah-halala'.
In the three homes and two villages of Uttar Pradesh that knew Shabana though, none of that matters. Door after door is closed on every query about the mother of three with one answer: "she was badchalan (character-less)".
"Mere bachchon ko badnaam kar diya, mujhe naamard kehti thi… Maine uski gardan kaat di (She defamed my children, called me impotent… I slit her throat)," says Mohammed Ateeq impassively in a "confession" video that Sub-Inspector K K Mishra, the kasba in-charge of Noorpur, shows on his phone. "Her character was bad, she ruined my home… Usko poora cheer diya (I tore her apart)," he continues.
It was on December 17 that Ateeq, 36, a resident of Noorpur in Bijnor, allegedly killed his wife Shabana after finding her in an "objectionable" state with Imran, 35. The couple, who had been married 13 years, have three children, aged 13, 10 and 5.
At Noorpur, a small village of nearly 500 homes where most men are employed as daily-wagers and rickshawpullers, Ateeq was once hailed for "breaking free". Most men in the village talk about Ateeq's three-year stint in Saudi Arabia five years ago, and how he "worked very hard at a factory there and returned with lots of money".
For Shabana, who had accompanied Ateeq abroad, there is only contempt. "She spent all his money. She didn't even take her children there. Everyone knew her character, she wasn't a decent woman. After returning from Saudi, she had many affairs in the mohalla (locality)," claims the head of Noorpur kasba, Sannavar Hussain, 36.
According to him, Ateeq took his wife's life "forced" by events. "She had made Ateeq's life miserable, so he gave her talaq on June 4. Later, finding it difficult to look after the children, he proposed to marry her again. But, according to the Sharia, she had to first marry another man and then go through an 'iddat' period of three months. Shabana said she was willing to marry Ateeq's friend Imran, and Ateeq agreed. But later, Imran and Shabana refused to divorce each other."
Hussain believes what followed was only natural. "After much insistence, Imran gave Shabana talaq on December 9 and she returned to Ateeq's home. But she continued to meet Imran. On December 17, Ateeq caught them at his house around 5.30 pm and killed her in anger."
Hussain even finds the fact that Shabana moved out with Imran after their wedding a "proof" of her character. "They settled out of the village, in a rented accommodation. She didn't bother about her children and didn't want to return. Who would want to stay with such a woman?" he says.
In the village where Ateeq's crumbling rented home stands locked, most people echo Hussain; others simply deny knowing Shabana. That includes her sister Rukhsaar, who lives less than 100 metres from where Shabana did. "I didn't interact with her," claims the 23-year-old, who stays in a one-room kuchcha house with her husband and three children. "We never visited each other. I learnt of her murder through a news item on the Internet. Later, several policemen visited the house," Rukhsaar says curtly.
Probe her a little more about Shabana's death, and she snaps, "Woh galat kaam mein pad gayi thi… shaadi toh unki marzi se hee hui thi (She got involved in wrong things. After all, she got married of her own will)."
Rukhsaar adds that her parents, who work as daily-wagers in Himachal Pradesh, had taken Shabana's three children with them. "I don't talk to them either," she claims.
Next door, Shabana's 26-year-old cousin Salim Ahmed, a daily-wager, repeats what Rukhsaar says. "She had chosen the wrong path… Why are you asking us questions, we didn't speak to them," he says, as his 22-year-old wife Salma Parveen asks, "Kaun Shabana (Shabana, who)?
At Imran's home in the same village, his sons — aged 2 and 5 — are running around in the courtyard. He also has two daughters aged 8 and 10. His wife Hasrat Jehan, 33, and mother Akhilima, 55, who are sitting on a cot, say they were "shocked" by the news of Shabana's murder. "I didn't know that Imran had married Shabana. We didn't know her. When we got the news, my husband and I were on our way to Chandigarh. We returned home from the station and Imran left home. I haven't seen him since," claims Jehan. Akhilima says her son is being framed.
Imran's 24-year-old sister Mumtaz has another worry. "The news has spread… we are getting badmouthed. I was engaged a few months ago, but now the groom's side isn't responding. We can't track my brother either. How long can I sit at home?" she says.
Jehan points out that her options too are few. "I have no place to go, both my parents are dead. Even when Imran returns, I can't confront him. Kya gussa karoon, rehna toh yahin hai (What's the point of anger? Where else can I go)," she says.
Thirty km away, in Samadgadh village in Kanth in Moradabad district, Ateeq's uncle Shabban Ahmed, 50, says he heard about the incident from relatives. "Ateeq's parents passed away when he was very young. His brother works in Delhi. They have not remained in touch with us."
Sub-inspector Mishra says the trial is yet to start, but since the accused has confessed, it should be a straight-forward case. While playing the video of the "confession" on his phone one more time, he pulls out a picture of Shabana seized from her house. "There were no other pictures at their home, not even of their nikaah," he says.
In the picture, Shabana stands in front of a colourful backdrop, wearing an embroidered salwar-kurta, a glittering necklace and golden bangles, her head covered with a dupatta. Her eyes are lined with kohl and her lips have a tint of red. "Yahi hai Shabana, isi ka murder hua tha (This is Shabana, she is the one who was murdered)," says Mishra.http://indianexpress.com/article/india/kaun-shabana-noorpur-talaq-nikaah-halala-uttar-pradesh-5014479/