Li Tianyi gets 10 years after refusing to repent or compensate victim in case that turned spotlight on China's wealthy elite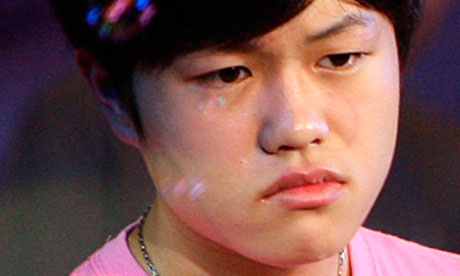 Li Tianyi's father, Li Shuangjiang, is dean of music at the PLA's Academy of Arts, and his mother, Meng Ge, is also a renowned military singer. Photograph: Reuters
Jonathan Kaiman in Beijing
Thursday 26 September 2013
The 17-year-old son of a prominent Chinese general and military singer has been sentenced to 10 years in prison for gang-rape, bringing to an end a six-month affair that provoked widespread outrage about entitlement among the country's wealthy elite.
The Haidian district people's court in Beijing sentenced Li Tianyi and four other juveniles for getting a woman drunk, beating her, and gang-raping her in a Beijing hotel in February. Three others received sentences of three to four years. The only legal adult in the group, a man with the surname Wang, was sentenced to 12 years behind bars.
"The behaviour of the five defendants counts as gang-rape. It has caused harm to the victim's mind and body, as well as harm to society, was of a vile nature, and should be punished accordingly," said the verdict, which the court released via Sina Weibo, the country's most popular microblog.
Li's family argued that the victim was a prostitute and that the sex was consensual. Li received a harsher sentence than his peers because he refused to repent for the crime or compensate the victim, state media reported. The other defendants have each given her 150,000 yuan (£15,244). Li's defence lawyer, Lan He, told state media he would appeal.
Li's parents are both famous singers – his father Li Shuangjiang is the dean of the music department at the People's Liberation Army's Academy of Arts and holds the rank of general; his mother, Meng Ge, is also a renowned military singer.
Lan Rongjie, a law professor at Zhejiang University, said 10 years was the harshest sentence an adolescent can receive for gang-rape. "If this was not Li Tianyi, and his case had not drawn the attention of so many people, I think the sentence would be lighter," he said. "The court's image is at stake – they want to display to the world that this is still a just system."
The case was a trending topic on Sina Weibo on Thursday afternoon. While many users applauded the harsh verdict, some expressed doubt that Li would serve his full sentence. "They say it's 10 years, but who knows how long he'll actually be locked up for," wrote one user.
Another user wrote: "I hope with all my heart that this case is the beginning of true justice [in China's courts], and strikes against those real tigers, the products of entitlement."
Li has been in the public spotlight since he was young, when he danced on television specials alongside his parents.
In 2011, he was arrested after driving a BMW without a licence, crashing into another car and attacking a couple that tried to keep him from fleeing the scene. Li spent a year in juvenile detention and his father apologised publicly for the incident.