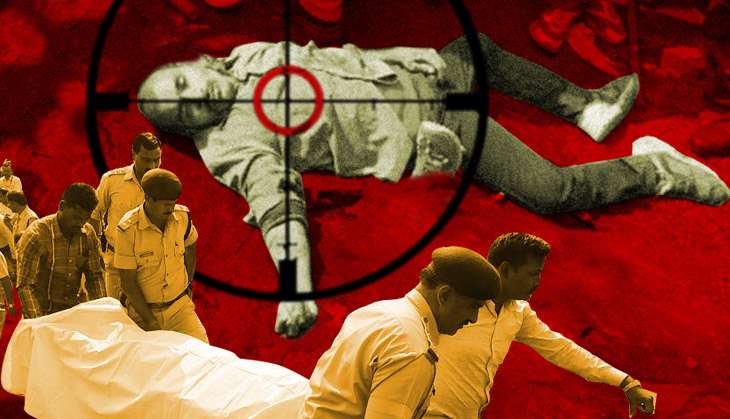 police control room simi audio (Malik/Catch News)
More evidence from the SIMI encounter about the Madhya Pradesh Police's excesses has emerged. Just like photographs and videos of the incident, new audio clips from MP Police's control room also suggest that police chose to kill the eight undertrials when they could have spared their lives.
MP Police's version of the encounter involving the eight SIMI-linked undertrials and engaging them in an hour-long fierce gun fight – now falls absolutely flat. Even more so because nobody from the civil administration or the police force has denied the authenticity of this multimedia information.
The latest police control room audio clips show that the encounter was well planned and directed. Here are the clips:
1. POLICEMEN ADMIT TO STAGING THE OPERATION
At 7:42 AM, policemen can be heard saying "Sab peeche hat jao…kuch aur farzi operation karana pade to." (All of you move back…we might need to do some more fake operations.)
2. THERE WAS A CLEAR INTENT TO KILL
A senior officer can be heard on radio ordering police engaged in action to kill all eight. "Sabko nipta do." (Finish everyone)
"Bilkul peeche nahi hatna hai. Gher ke pura kar do kaam tamaam." (Don't hesitate one bit. Surround them and finish them off.)
3. ORDER TO KILL CAME RIGHT FROM THE TOP
Control room operator tells the police parties – "Mike 1 saahab bol rahe hain nipta do." (Mike 1 says kill them all.)
Control room broadcasting clearly shows that killing all eight was the agenda. 'Take no prisoners' was the official mandate.
"Sigma Seven One, Chaar paanch mar gaye hain. Unko goli lag gayi hai." (Sigma Seven One, four-five are dead. They have been shot.)
"Chalo shabaash koi dikkat nahi hai. Hum log pohonch rahe hain." (Good, no problem. We are reaching the spot.)
"Ab teen bache hain." (Now three are alive)
"Bohot acha hua. Inka ilaaj karane mein kitna kharcha hota." (Well done. It would have cost us a lot to get them medical help.)
Around the ninth minute into the broadcast, policemen are heard exclaiming – "Aathon maare gaye (Loud claps). Khel Khatam." (All eight are dead [loud claps]. Game over.)
"Sir badhai ho." (Sir, congratulations.)
"Well done."
"Very good."
4. THE OPERATION WAS SWIFT. IT LASTED FOR NINE MINUTES AND 48 SECONDS – NOT ONE HOUR
In absolute contrast to what Madhya Pradesh Police DGP Yogesh Chaudhary told reporters on Monday, the day of this 'encounter', the whole operation seems to have been wrapped up in less than 10 minutes.
Chaudhary had claimed that the 'encounter' lasted for an hour in which the attackers had injured three policemen with sharp weapons.
What was not clear was this – If the fugitives were armed, why did they engage policemen in hand-to-hand combat? And did the three policemen engage with the fugitives unarmed?
In the audio clip policemen can be heard saying that the fugitives are firing at them. But there are no radio messages of anyone being hurt.
5. THE FUGITIVES WERE SURROUNDED FROM ALL SIDES. A SURRENDER COULD HAVE BEEN EFFECTED
Police officers can be heard saying that all the fugitives have been surrounded in a perimeter of one kilometre diameter by the police parties.
"1 km ka daayra gher ke rakhe hain." (We have surrounded them in one kilometre radius).
When asked about the authenticity of the audio clips and their content, Inspector General (Intelligence) MP Police, Makrand Deuskar said that he hadn't heard them and wouldn't like to comment.
"The case has been transferred to CID. They're investigating all aspects of it. I don't want to comment on this issue," Deuskar said.
Edited by Jhinuk Sen
http://www.catchnews.com/india-news/finish-everyone-orders-to-kill-8-simi-linked-undertrials-came-from-the-top-show-audio-clips-1478158116.html/fullview