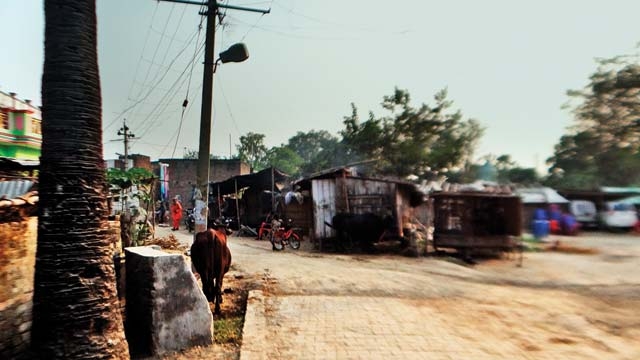 With elections around the corner, communal fault lines across Uttar Pradesh are deepening
In a sparse mud-thatched hut along an unpaved lane of Bangali Peti Banjariya village in Kushinagar district, 17-year-old Aseema* sits stiffly, the tensions of the past months evident in her clenched jaw and stubborn silence. She has none of the demeanor of a coy bride-to-be for her wedding painstakingly arranged by the family in the wishful hope that the groom's family never finds out about her being kidnapped and held in captivity for a year.
"That Hindu guy kidnapped me. They put a lot of pressure for me to get married and live as a Hindu with him,'' Aseema says angrily. "I refused. If I am a daughter of a Muslim, then I will live and die only as a Muslim.''
With elections around the corner, communal fault lines across Uttar Pradesh are deepening. Theories of a planned conspiracy by the dominant Hindu community to threaten the Muslim minority are gathering force and run the risk of flaring up in the communally charged atmosphere.
Aseema's anger resonates in a polarised political scape with allegations that young girls like her are victims of love jihad—albeit with role reversal—i.e Hindu men are luring Muslim women and forcing them to marry and convert.
Villagers from the Muslim community and a rights organisation say that local henchmen of the Hindu Yuva Vahini (HYV), a cultural organisation formed by Gorakhpur MP and head priest of Gorakshnath temple, Yogi Adityanath, are behind a planned syndicate targeting vulnerable Muslim girls.
DNA met the families of nine Muslim girls who were abducted allegedly by Hindu boys or have gone missing and later found to be married to Hindu boys.
The contention that HYV members are running the plot gains more ground as Adityanath, the organization's head protector, has over the years championed the issue of love jihad. In 2014 Lok Sabha elections, love jihad was a major poll issue for the BJP. "If they take one Hindu girl, we will take 100 Muslims girls,'' Adityanath had declared in a public rally, in an undated video that surfaced around the election campaigning.
In Gorakhpur, he added, the reverse is happening. "Muslim girls are coming to Hindu families."
Adityanath refused to be interviewed for this article.
(*name changed on request)http://www.dnaindia.com/india/report-ahead-of-up-state-elections-love-jihad-20-polarises-kushinagar-2290490