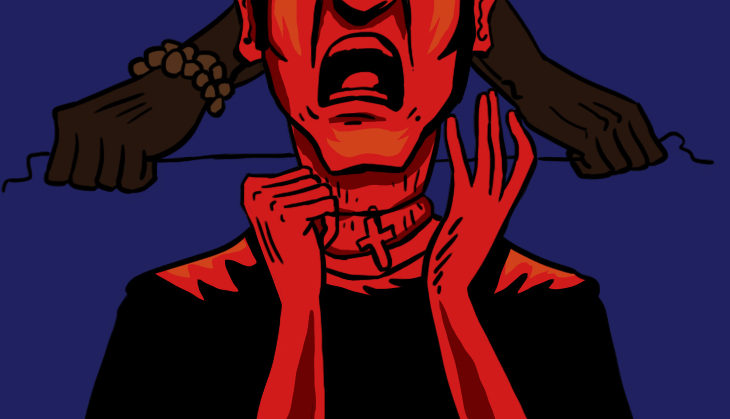 Arya Sharma/ Catch News 
The attacks
This Saturday, goons entered a church in Bastar and tried to set the pastor and his pregnant wife on fire
They allegedly forced people to shout Jai Shri Ram
Attacks on Christians have been on the rise in Chhattisgarh, often abetted by the administration
About a month after goons entered a church in Raipur, vandalised it and attacked the women and children present there, a Christian couple was attacked in a church in Bastar this Saturday.
Hooligans, reportedly carrying pistols, rods and knives, are said to have entered the church on Saturday night and assaulted Pastor Dinbandhu Sameli, his 7-month pregnant wife and daughter Roushni Vidya.
After entering the premises, the assailants attacked the pastor and tried to destroy the Holy Bible, furniture and religious material kept inside. They also tried to set the church on fire.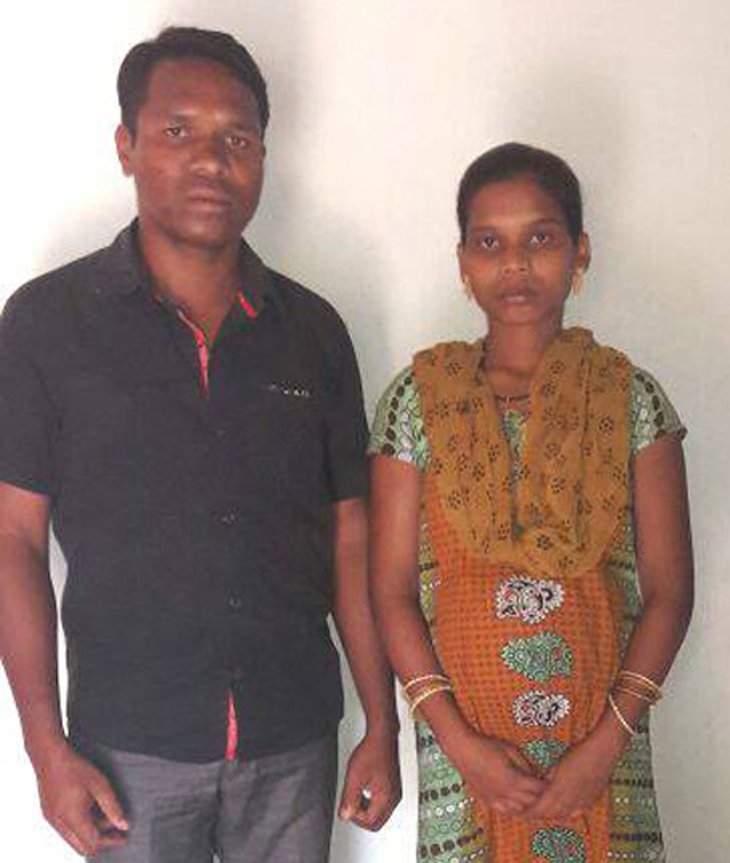 Pastor Dinbandhu Sameli and his 7-month pregnant wife. Photo: Suhas Munshi/ Catch News 
The president of Chhattisgarh's Christian Forum Arun Pannalal says that the attack was carried out by the workers of Bajrang Dal and accused police of "covering up" the incident.
"Attackers allegedly doused pastor's pregnant wife with petrol & forced Christians to say Jai Shri Ram"
"The church was vandalised by Hindu fundamentalists during prayer meeting on Saturday. Activists wearing bhagwa (saffron) head bands, were forcing Christians to chant 'Jai Shri Ram', then they doused the pastor and his 7 month pregnant wife with petrol. And now the police is trying to protect them," he said.
The officer investigating the case, Abdul Khan, had a totally different view of the case. "Who told you that these people [the attackers] chanted 'Jai Shri Ram'? You go and ask those people these questions.. As far as the investigation is concerned, it's happening and in due time we'll catch the people responsible for this," he said.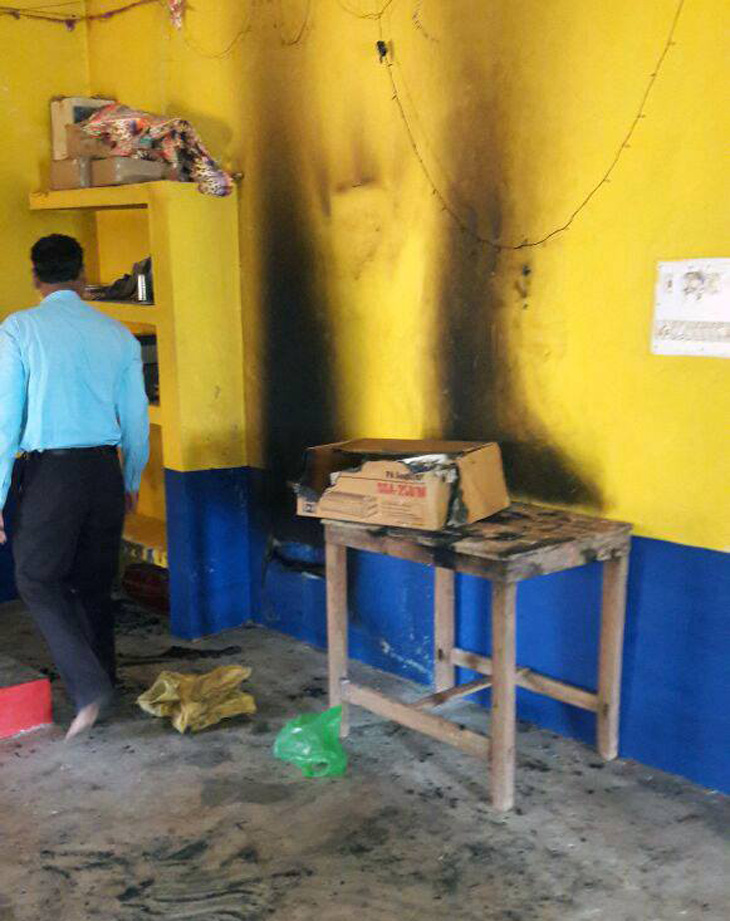 But even if the police nabs the attackers, what are they planning to charge them with? Certainly not the charges of attempt to murder, causing grievous injury or criminal conspiracy, sections which would match the gravity of the crime – of trying to set a 7 month pregnant woman on fire.
Instead police has registered an FIR under sections like 452 (house trespass), 395 (dacoity), 435 (committing mischief by fire and causing damage of Rs 100), 427 (committing mischief and causing damage of Rs 50), 295 (injuring or defiling place of worship) and Section 34 (acts done by several people in furtherance of a common intention).
CHRISTIANS TARGETED
According to data compiled by Chhattisgarh Evangelical Foundation, the attacks on Christians are only increasing with time. But many feel that the attacks aren't just physical in nature. That the attacks often seem to be well coordinated and abetted by people in power.
The table below shows the number of incidents of violence against Christians in Chhattisgarh. The data was compiled by the Catholic Secular Forum.

Here are some other examples:
1. In 2013 some villages in Chhattisgarh decided to ban the entry of non-Hindus in their village. By last year, some 150 villages had passed such resolutions. These resolutions were finally taken to the High Court that struck them down as being unconstitutional.
2. Chhattisgarh is one of the 5 states in the country to have passed an anti-conversion law. While banning one's conversion to any other faith, the law has provisions for anyone wanting to return to their 'ancestor's faith' or their 'original religion'. This won't be considered 'conversion' according to the law.
3. Vishwa Hindu Parishad (VHP) banned distribution of sweets by Santa Clauses in the area on the occasion of Christmas. It has asked the community to instead refer to the sweets as 'prasad'.
4. It has also forced churches in and around Bastar to display pictures of the Hindu Goddess Saraswati in their schools.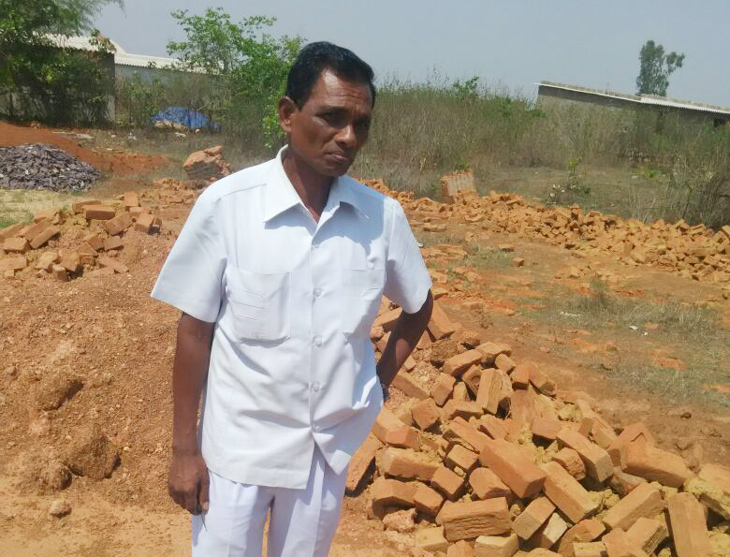 Pastor Surendra Chalki. Photo: Suhas Munshi/ Catch News 
"Physical attacks are not as worrisome as the attitude of this administration. They were privatising and taking over the model schools in the state and giving them over to a particular community group. We had to approach High Court against this and last month got a stay," Pannalal said.
"Apparently churches around Bastar are being forced to display pictures of Saraswati in their schools "
He added that in Korba, Hindu fundamentalists were trying to force a sister to install Saraswati statue.
"When she refused, the collector of the area booked her in a case of disturbing communal harmony. When we approached National Human Rights Commission, they made the same collector the inquiring officer in the case," said Pannalal.
Reverend Rajesh Robin has seen communal attacks and state apathy from up close. He's been part of several protests, one of which was against vandalism of a cemetery. Instead of seeing police action against hooligans, he has been booked under several cases like attempt to murder, kidnapping and seeking ransom. He even had to spend 3 days in jail in connection with one of the cases.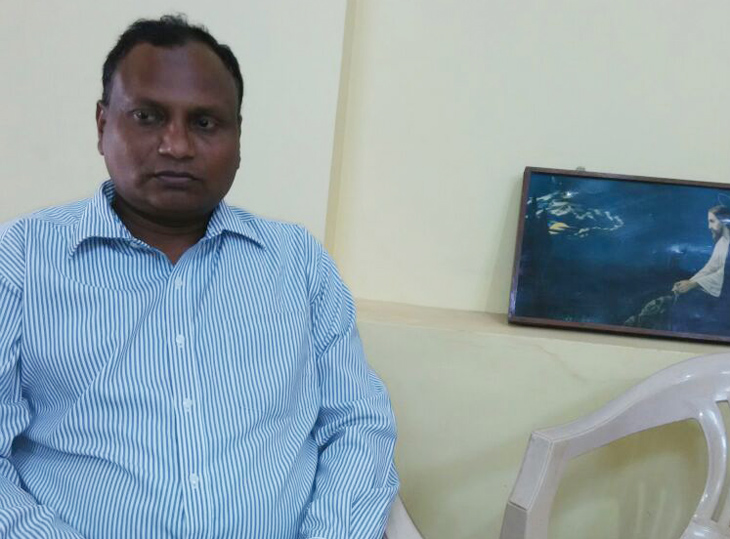 Reverend Rajesh Robin. Photo: Suhas Munshi/ Catch News 
"This year alone we've seen cases of pastors and parishioners being beaten in Bijapur, Narayanpur, Raipur, Madhauta…In Narayanpur they were beaten so badly that they had to be brought to Jagdalpur for treatment. In Jagdalpur we're still better off, but there still is a palpable fear of police and Hindu fundamentalists here."
It is because of incidents like the vandalism of their graveyard that shook the faith of people like Pastor Rajesh in the state.
"So these people recently demolished a wall that was being built around the graveyard. The police did not even register a case. Then these goons came to us and claimed that this graveyard belonged to their faith some 150 years ago. Just like they did in the case of Babri Masjid. So what are we supposed to do now?"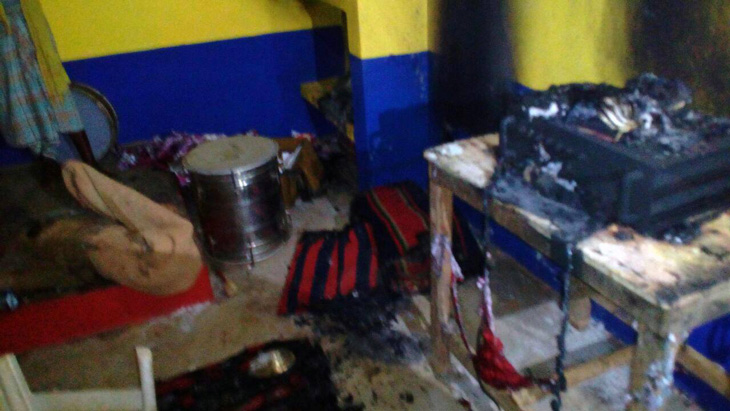 Pastor Surendra Chalki who runs an ashram for children and elderly women in Jagdalpur also suffered a shock recently. An brick and mortar ashram that he was building with the donations he collected from his neighbours, was demolished by the municipality, even though he had secured a nod from his gram sabha. But he's still hopeful.
"When we approached the collector, he told us that the ashram was demolished by mistake. We will hopefully get a clearance from all the authorities and start building the ashram afresh."
Edited by Aditya Menonhttp://www.catchnews.com/india-news/why-it-s-no-longer-safe-to-be-a-christian-in-chhattisgarh-1461211057.html